Bachelor parties with male or female nude model.
This has been a frequently requested activity for years, in which, in addition to art, humor is also widely discussed.
While enjoying a snack and a drink, make an effort to represent the model in as much detail as possible.
The sessions last 2 hours and are suitable for groups of up to 20 to 30 participants, depending on the location. (Max. 20 people in our own studio) If the party takes place at a different location, the activity is a success for up to 30 people.
If the bachelor party takes place in our studio, it is also possible to conclude this activity with a cozy drink, or in the summer a gas barbecue around our atmospheric garden bar.
Price tag on request.
Contact us for more information.
Group activity by theme.
There are many more examples for a successful activity. Consider, for example, the theme: "Self-portrait" where everyone will immortalize themselves in graphite or oil paint. Or, for example, "Drawing a landscape", where a beautiful painting is made for posterity on the basis of a (self-made) photo. All this in a friendly relaxed atmosphere where social contact is in the foreground. This happening can also be framed with a snack and a drink or a closing barbecue

.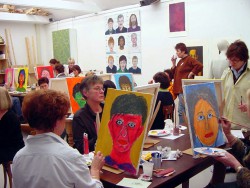 Do you have a nice idea yourself?
Let us know, there are many possibilities.
Please contact Astrid Vredegoor for a price indication