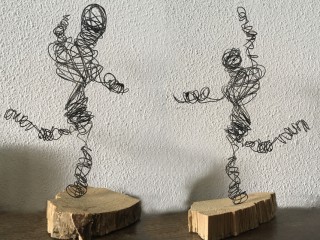 Een leuk vakantieuitje in de achterhoek
Een spannende workshop voor jong en oud, met een spectaculair einde, om nooit te vergeten.
Tijdens een druilerige dag of misschien wel voor je verjaardagfeestje gaan we een spannend draad figuur maken.
We verklappen niet te veel, maar dat het spectaculair wordt dat beloven wij. Kom met je vriendjes of vriendinnetjes, met je zusjes of broertjes en je ouders.
Deze workshop is voor iedereen spannend en je neemt nog een heel mooi cadeau mee naar huis.
De workshop duurt 2 uur en gaat door bij een minimale deelname van 5 personen en kan op afspraak op ieder dagdeel gehouden worden.
De kosten per persoon zijn € 24,95 incl.BTW, materialen en koffie/ thee of ranja.